Farmer Siao Introduces Meinong's Agricultural Industry





Farmer Siao Introduces Meinong's Agricultural Industry
◎English translation: Hou Ya-ting ◎Photos by Fang Zih-ci, Wu Ke-wei ◎Photos courtesy of Mr. Siao's Tourist White Jade Radish Field, Wild and Field Studio
 Meinong District is known as southern Taiwan's fertile bread-basket, which yields regional, agricultural products year-around. It is surrounded by mountains to the north and east, with the Laonong River to the south. Its distinct character is made up of a variety of farms and rice paddies, traditional Hakka architecture and extraordinary natural scenery. The fall brings a regional harvest of rice and the subsequent planting of its White Jade Radish, along with other seasonal agricultural products, like tomatoes, adzuki beans, soybeans and eggplant.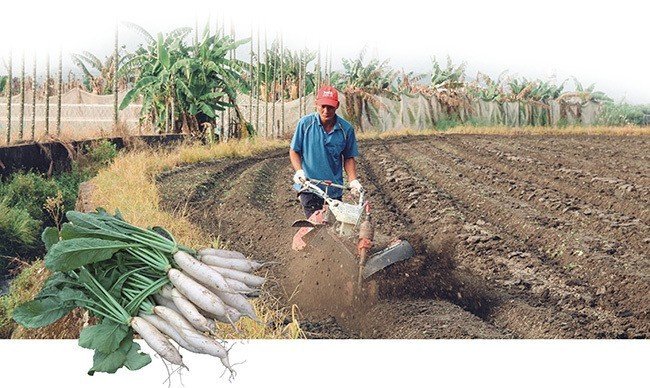 Local farmer, Mr. Siao and his family have been farming in Meinong for generations. They previously planted tobacco; however, Taiwan Tobacco & Liquor Corporation terminated tobacco purchase from Meinong in March, 2017, due to imported leaves being much cheaper than Meinong's. Hence, farmers have had to find alternative agricultural products to make a living. Today they grow papayas, bananas, adzuki beans, tomatoes, White Jade Radishes and soybeans. His family is fully knowledgeable in farming methodologies needed for harvesting a vast variety of agricultural products. For example, some bananas need a defoliating methodology, while other bananas need to be bagged.
 Even veteran farmers are never guaranteed a successful harvest. It is always determined by nature. This year when he sowed his White Jade Radish seeds in mid- September, it got completely wiped out by a torrential rainfall. However, in the agricultural industry farmers must not waste time lamenting their losses. Mr. Siao quickly set to work sowing another radish crop before mid-November, which still allowed for a successful harvest. However, the crop would not yield the best texture and flavor if it were planted so late in the season.
 Mr. Siao's White Jade Radish field is located on a hillside. He describes sowing White Jade Radish seeds as a relatively simple process. The secret to cultivating White Jade Radish lies in the soil texture and a variation in temperature which creates dew drops. This subsequently yields a delicate thin skin and a mild, sweet flavor. Mr. Siao also pointed out the looser the soil, the better the radishes grow. In Meinong irrigation is also used to water the fields and the Siao family conveniently has a duct adjacent to their field. Tractors and farming machinery facilitate the plowing and planting processes. This enables crops to grow at a similar rate and the harvesting to be significantly more efficient.
 Farmers always have to get up really early to go to work. Mr. Siao wakes up around 5 to 6 o'clock. The first thing he checks is water saturation or if there has been water overflow from neighboring fields. He then checks to see if there are any decaying leaves and gets rid of any insects that may affect the crop. Special attention must be heeded to pest control, yet Meinong's farmers comply with strict regulations when using pesticides. They are only allowed to spray within the first 20 days of the radishes' 45 days growth cycle. This ensures that there is no pesticide residue remaining when the crops are harvested.
 He has also begun to open his White Jade Radish fields up for visitors. This began when his daughter who was a kindergarten teacher at the time, brought her class over to learn how to pull radishes in her father's field. It was then that he got the idea of encouraging city dwellers to come and enjoy a simple farming experience and find out how fun it was to pull radishes. Once visitors have tasted Meinong's White Jade Radish, they always come back for more.

愛不孤單─「家庭照顧者支持服務」給你靠
 台灣有超過45萬失能人口是由家人親自照顧,為了減輕這些家庭照顧者的負擔及照顧壓力,高雄「家庭照顧者支持服務」設置2個家庭照顧者支持服務據點,由專業社工人員主動走入社區,舒緩家庭照顧者照顧壓力,今年更結合創新資源推出行動咖啡館等,受惠的小呂笑說,除了負擔減輕,還從中感受到溫暖。…


‧德國政府為自駕車制訂了倫理準則
人命的價值與平等應該比財產損失及動物危害更應該被優先考量!因此德國政府為自駕車制訂了準則並即將於德國境內執行。這套準則於2017年08月23日由倫理委員會所提出,讓每一輛自駕車都能夠"瞭解"到「人類生命皆為平等!」

‧屋主哭哭!這2社區房價 跌了逾5成
屋比房屋比價平台統計雙北前十大賣壓社區,北市分布在中山、松山、信義及文山區,新北市則集中在淡水區,近期成交價和先前最高價相比,房價大多有二到五成價差。其中,北市中山區「基泰之星」實價最高每坪157萬,近期成交70萬元,價差高達55%。